Riding schools are increasingly investing in indoor riding facilities and because they have found the cost of indoor manège construction does not have to be prohibitive.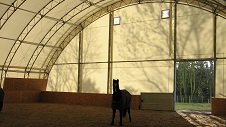 One of the most cost-effective ways of covering an area that may typically be 30m x 50m is to build a tensioned membrane building. These use galvanised steel roof trusses to support the membrane which can either start at ground level, supported in concrete foundations, or can be attached to a low concrete wall.
The materials for indoor arena construction are not expensive but the real savings come in labour and transportation costs because these structures are very quick and easy to build. They are also strong, durable and easy to maintain which helps keep on-going costs to a minimum.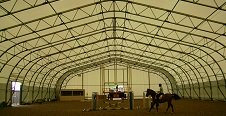 The finished result is a building that is warmer in winter and cooler in summer because of the non-conductive nature of the materials used. And the atmosphere inside is both light and calm as the translucent fabric not only lets the daylight through but also dampens any echoes.
At RSG Structures, we can simply source and provide the materials you need for your indoor manège construction but we do make the whole project simpler for riding schools by offering a complete package. This can include the design, sourcing materials, all drainage and other groundwork – whether building from scratch or enclosing an established arena – and the final indoor arena construction.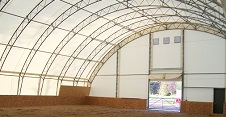 It means customers only have one point of contact – RSG – and it leaves us free to get on and do what we do day-in, day-out ie manage concrete and tensioned membrane construction projects.
In addition to this, we are totally independent of all our suppliers, which means we provide customers with totally impartial advice on the materials and design based on our experience and know-how and source it at the best prices available.