Local authorities have found an excellent use for tensioned membrane buildings as storage depots. They are now widely used to store everything from salt for winter roads to machinery, signage and recycling materials.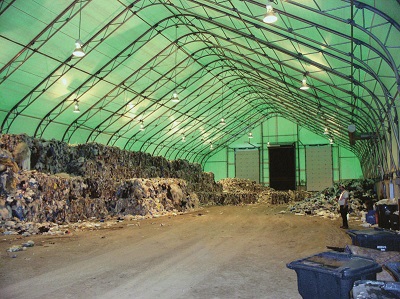 The reason for their popularity as council depots is that they are very cost-effective to build. The materials themselves are relatively cheap, they are easy to transport to the site and they are very quick to erect – all of which means low construction costs. And in addition to this they are robust and require minimal maintenance, so reducing on-going costs.
The design of tensioned membrane buildings as storage depots could not be easier. The membrane itself is held up by galvanised steel roof trusses which are either supported in the concrete foundations, with the membrane starting at ground level, or attached to simple concrete walls.
Concrete walls are better if they are likely to take a bit of a battering from vehicles or the materials stored in council depots, For example, road salt can piled against concrete walls which tractors can then push against to help fill their buckets when loading gritting lorries.
Another key benefit of these buildings is that they are not only light inside but also warmer in winter and cooler in summer because of the thermal properties of the membrane, making them easy to work in.
At RSG, we are totally independent of all our suppliers, which means we provide local authorities and other depot owners with totally impartial design advice based on our experience and know-how. And we can also source materials from any supplier, ensuring we get the most cost-effective solution.
Not only can we supply all the materials required for tensioned membrane buildings but we also offer a full design-and-build package, including design, the sourcing of materials, all the groundwork and the final construction. This makes it easier for our customers with just one point of contact for them. And it leaves us free to get on and do what we do best – managing concrete and tensioned membrane construction projects.