Whether public or private, swimming pools are much better used if built indoors but the cost has often been prohibitive. However, this is no longer the case if you use tensioned membrane structures for swimming pools.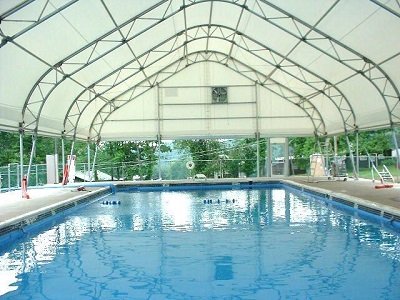 These simple, draft-free buildings are durable and stylish yet strong enough to withstand the worst the weather can throw at them. But perhaps their greatest attraction for indoor swimming pool construction is their cost-effectiveness: the materials themselves are cheap, delivery to the site is simple and they are very quick to erect which cuts down on labour costs too. They are also very easily maintained which reduces on-going costs.
The translucent membrane itself lets the light through and they are also warmer in winter and cooler in summer because of the thermal properties of the membrane.
The design of tensioned membrane structures for swimming pools could not be easier. The membrane itself is held up by galvanised steel roof trusses which are either supported in the concrete foundations, with the membrane starting at ground level, or attached to simple walls.
At RSG, we are totally independent of all our suppliers, which means we provide leisure centres and private individuals with totally impartial advice on the best materials to use and the design, based on our experience and know-how.
We can supply all the materials required for indoor swimming pool construction but we also offer a full package, including design, sourcing of materials, the groundwork and the final build. This leaves our customers with just one point of contact – RSG. And it leaves us free to get on and do what we do best: managing concrete and tensioned membrane construction projects.