We provide and construct tensioned membrane buildings using tough and durable engineered fabric up to 92m wide with lengths to suit your needs. The fabric is tensioned across galvanised steel trusses which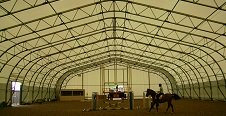 are mounted on concrete walls.
These simple, cost-effective structures have a huge variety of applications. At RSG we offer not only to supply them by but provide customers with a full design-and build package.
Some of the uses of tensioned membrane buildings These versatile structures can be used in many situations including:
Equestrian buildings including indoor manèges

Barns and other agricultural buildings

Recycling centres

Covering different facilities at water treatment plants

Storage depots

Driving ranges at golf courses

Indoor sports and leisure facilities

Swimming pools

Providing shade in playgrounds

Providing shade in car parks

Providing shelter at retail outlets
Materials used
RSG Structures is totally independent of all our suppliers and so we are free to source the best and most cost-effective products from industry leaders. Steel Trusses All our fabricated steel truss components are hot-dip galvanised. This coats the steel with a thin zinc layer by passing it through a bath of molten zinc (at 460 °C).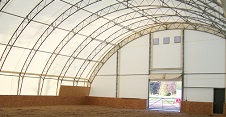 This process is more reliable and provides a more durable coat than other galvanising methods, such as electrolysis.  Steel trusses are set out at predetermined centres to cater for local wind speeds and snow loads. The foundations or walls the building is fixed to are also determined by this.
Advantages of Tensioned Membrane Structures
Membrane structures are warmer in winter and cooler in summer due to the non-conductive thermal properties of the membrane.
The buildings are bright internally as the translucent properties of the membrane allow a huge amount of sunlight in. There are many benefits from this including:
Stock housed within these structures enjoy better welfare leading to higher yields.
Lighting requirements are greatly reduced leading to lower operational costs.
The fabric dampens sound for a calm, hushed atmosphere instead of creating echoes.
The building is more corrosion resistant with the cover not containing any metal components.
The galvanised building frame has excellent durability.
The membrane covers are virtually maintenance-free and do not trap dust or dirt. Nor do they require painting and or re-cladding to maintain a clean appearance.
The building materials are light and very easy to deliver to sites, so avoiding major transport costs.
These building are very quick to construct and so significantly reduce labour costs.
These versatile steel-framed tension fabric buildings are available in arched or gabled clear span profiles which fulfil a wide range of building requirements.