Recycling centres are increasingly making use of tensioned membrane buildings. Not only are they widely used as storage units for materials awaiting processing but are also used as composting tunnels for green waste recycling.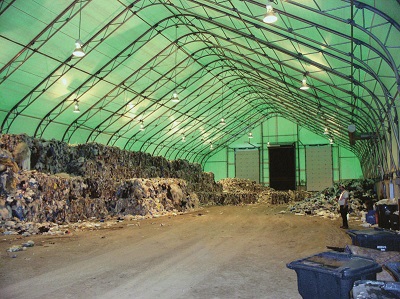 The reason for their popularity is that they are among the most cost-effective constructions available. The materials they are made from are relatively cheap and they are also easy to transport to the recycling depot which reduces fuel costs. And they are very quick to build and so incur low labour costs.
The design of tensioned membrane buildings for recycling centres is straightforward. The membrane itself is supported by galvanised steel roof trusses and these can either be supported in concrete foundations, with the membrane starting at ground level, or they can be attached to precast or prestressed concrete walls.
If the walls themselves are likely to take a bit of a battering from vehicles or materials, then concrete is usually a better solution. For instance, in composting tunnels, the green waste is packed into a building at one end and emptied from the other, so vehicles are inevitably going in and out and the material will also be pushed against the walls. Mounting the tensioned membrane roof on the wall takes any unnecessary pressure off it.
Another of the key benefits of these buildings is that are not only light inside but also warmer in winter and cooler in summer because of the thermal properties of the membrane. This can also create a good environment for a composting tunnel where the temperature is warm enough to encourage the composting process but not too hot to work in.
At RSG, we are totally independent of all our suppliers, which means we provide recycling centres with totally impartial advice on the materials and design based on our experience and know-how.
We can supply all the materials required to build tensioned membrane buildings for recycling centres but we also offer a full construction package too, including design, sourcing of materials, all groundwork and the final build.
This makes it easier for our customers as RSG becomes the only point of contact for them. And it leaves us free to get on and do what we do best which is managing concrete and tensioned membrane construction projects.