Each project is different, with its own set of challenges which demands a unique tailored solution. RSG Structures pride themselves on being able to identify, design, supply and construct the best products suited to a specific situation. This may be based purely on budget, speed of erection, style of architecture, access onto and around site or a mixture of all of these. Whatever the circumstances RSG Structures have a system to suit.
Pre Stressed Concrete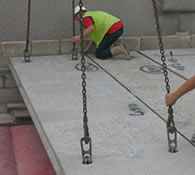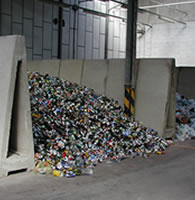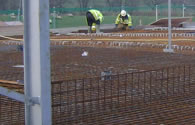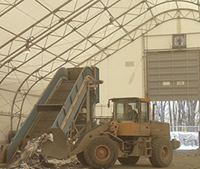 Using prestressed concrete units can offer savings in a variety of ways: By using the concrete in compression the units are more slender and lighter than their precast or in-situ counterparts. This offers savings in terms of speed of installation; smaller installation plant; transport economies; raw materials economies, hence financial savings to our clients. The prestressed concrete panels can be used in a number of ways: such as a simple horizontally spanning panel, a vertical propped or cantilever panel, sandwich panels with an in-situ infill or flat as roof slabs or flooring units. Our solid prestressed concrete panel thickness ranges from 80mm up to 300mm. The "Hollowall" system thickness ranges from 150mm up to 350mm. RSG Structures also supply and install Hollowcore and solid flooring units for all spans
Precast Concrete Units
Where prestressed concrete units offer ultimate design performance, sometimes the simplicity or complexity of a scheme means precast concrete units offer the best solution. RSG Structures can offer many types of precast unit, from bespoke precast to standard units available off the shelf. We supply and install many shapes and styles of standard precast concrete units which include:
L shape units (also available as a prestressed units for heights up to 6m).
T shape walls up to 4m high.
Self shedding dividing units with heights up to 4m.
Certified barrier units for anti terrorist and security applications.
Concrete Columns available in heights in excess of 12m.
Biofilter Decks and Cattle Slats.
In-Situ Concrete Works:
Using cast insitu concrete RSG Structures design and construct walls, floors and other structures. Whilst RSG Structures firmly believe that the use of precast and prestressed concrete is the most cost effective and time efficient way of construction, we are also aware that in many cases the most practical solution is still the pouring of concrete on site.
Building
RSG Structures also source and construct steel, wooden and concrete framed buildings to compliment the other products and services we offer. From an expansive list of suppliers, RSG Structures will source the right type and style of building to suit the client's requirements.