RSG Structures has helped build a baffle-walled sewage system at a water treatment works in Rushmoor, near Telford.
Working with leading civil engineering and construction company JN Bentley, RSG designed and supplied pre-cast and pre-stressed units for the installation at the water treatment works.
RSG was involved in planning from a very early stage, providing wall-design options to suggest the most effective solutions for JN Bentley before the foundation slab was laid. This also enabled the company to specify "L" reinforcing bars which when fixed and concreted into the foundation slab, provided a unique fixing system for the supporting columns.
As an independent company, RSG was also able to source posts and panels from different suppliers for the best solution. Their relationship with these suppliers and their project management skills meant that all parties worked together seamlessly.
RSG director Gareth Neale said: "We have numerous trusted suppliers, many who we work with regularly, so we are able to provide our clients with the best possible solution without compromise."
Delivery of the units to site at Rushford was planned around the project installation with JN Bentley, ensuring that they had the right materials at the right time.
Rob Culledge, of JN Bentley, said: 'It's been a pleasure working with RSG. They listened carefully to what we needed and designed several options for us. It's good to find a supplier that isn't tied in with one manufacturer and has the flexibility to design a solution that is truly bespoke for our needs. Their planning, flexibility and support throughout the process was great'.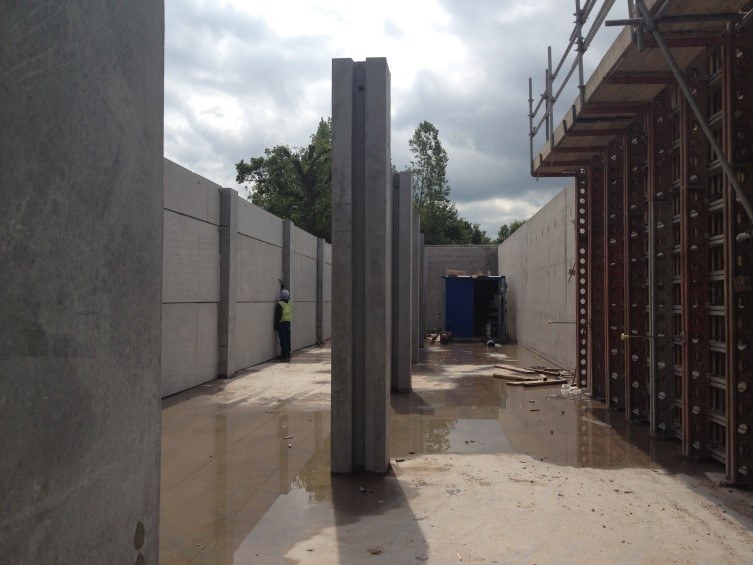 The final design of the sewage system used 232 pre-stressed concrete panels of various sizes, which slotted in to 56 pre-cast concrete posts which were 4.0m high. The posts were specifically manufactured to fit on to the 'L' bars that had been fixed in the foundation slab.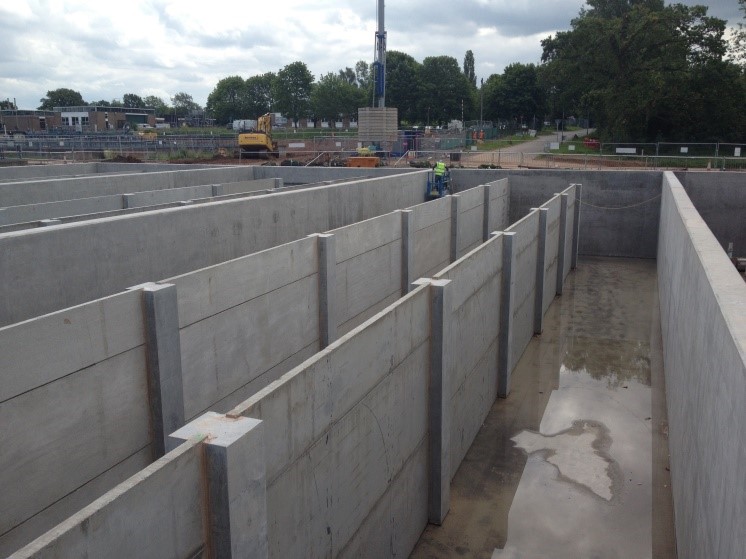 The baffle-walled system created a slalom system to help regulate the flow of sewage through the water treatment works, with the strength to withstand the pressures of the sewage once the area was filled.
Cost savings of around £35k were achieved using RSG designs of pre-cast concrete sections, with a project time saving of around four weeks. The design also enabled the use of thinner baffle walls than the alternative walls cast in-situ, resulting in a reduced overall footprint and further savings of around £11k.
The installation process also lowered health and safety risks on site through the need for less steel fixing and concrete handling. The project additionally benefitted from a reduced carbon footprint thanks to fewer materials and lower associated transportation.