A footbridge over the River Thames south of Oxford has been refurbished and strengthened with help from RSG Structures.
Sandford Bridge spans the Sandford Lock bypass channel of the Thames and is primarily used for access to the lock house and the lock structure. It replaces the previous bridge and the 3 metre wide roadway, spanning 40m, increases the structure's carrying capacity from 3 to 18 tonnes.
RSG worked with Jackson Civil Engineering to plan the refurbishments and specify, source and supply materials for the job. The original bridge deck, constructed from large longitudinal concrete slabs, was removed to install a new deck made from a steel frame and comparatively smaller pre-cast concrete slabs. The benefit of the latter was the requirement for a smaller crane for lifting and positioning which reduced the carbon emissions from 48 tonnes CO2 to 8t CO2, a significant benefit since the environmental impact was a key consideration in this project.
Refurbishing a footbridge over a river is logistically complicated and requires careful planning. Following the initial meeting with Jackson, RSG meticulously planned the project. The pre-cast concrete slabs units were produced to the bespoke specification and requirements of the bridge itself and construction methods to be used.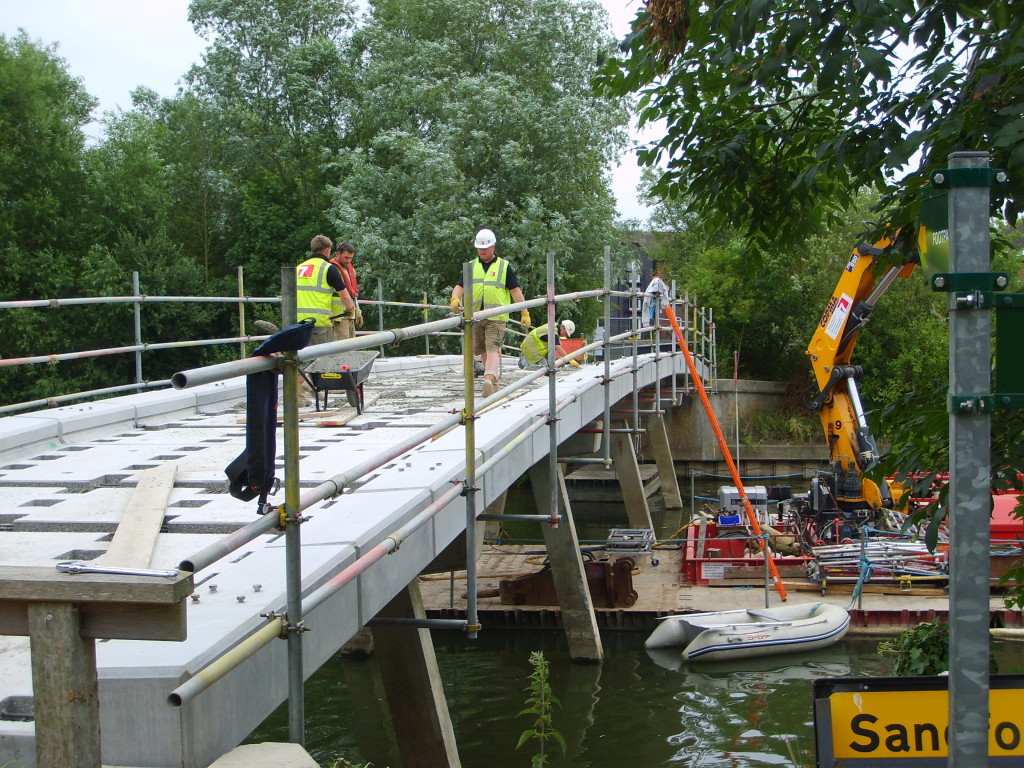 The operation required up to four concrete units at a time to be crane-loaded on to flat-bottomed barges, which were then floated from the river bank to each loading point. Then, with the barge securely anchored, the concrete slabs were hoisted in to position.
Deck units were located onto steel studs on the bridge frame, fitting neatly together to fit securely in place. The units were then sealed and the structure infilled with concrete before applying the tarmac to finish the walkway.
The repeated transfer of the large concrete deck units by barge took around a day. The whole of RSG's installation, including bridge deck delivery, transfer by barge, fitting and finishing of the deck units to seal and infill to ensure that the structure was completely robust, took around a week.
"Working with RSG was easy – they consulted us fully before starting and always kept us in the loop throughout the project," said John Wilshire, project manager at Jackson Civil Engineering.
RSG Structures director Gareth Neale said: "This project illustrates the flexibility of our approach. As an independent company, RSG is able to source any materials from anywhere and in this instance we were able to make a major reduction on the environmental impact by using the best materials for the job. And there were other more specific challenges too, such as moving the precast units across the river, which shows how we're always ready to find a solution, whatever the challenge."