A new blast-proof and crash-proof barrier system – KarabloK – will be globally launched at World of Concrete by RSG Structures in February 2016.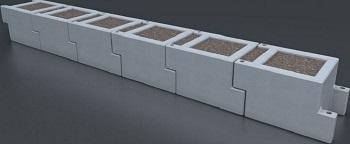 The modular system is designed for use as a highly effective security wall around sensitive locations where hostile threats may be anticipated.  It is quick to erect as it doesn't need foundations or any ground-fixing and is easily removed by cranes and trucks to be reused elsewhere.
The KarabloK system uses precast concrete units locked together with a unique coupling system to form a highly effective barrier which can be up to six metres high (five units). Individual units have been tested and shown to provide ballistic protection from multiple strikes in 30mm HE Cannon round attack and fragmentation protection from both medium-sized indirect fire (IDF) munitions and RPG shaped charge rounds.
When connected together, KarabloK units provide a highly effective hostile vehicle mitigation system (HVM) and withstand very large impact loads. KarabloK units have also been tested and are proven to be very effective against large blast loads.
The patented KarabloK system can be made aesthetically pleasing, enabling it to provide an effective solution for a range of applications where both security and appearance are important.
RSG Structures Director Gareth Neale said: "We're launching this ground-breaking new product at World of Concrete trade show in Las Vegas from February 2-5.
"We are the sole distributor and installer of the KarabloK system in the UK and Republic of Ireland.
"As well as direct sales, we are also looking for commercial partners for KarabloK at all levels, including manufacturing and sales, in North America, Australia, Europe and Eurasia where we have patents pending.
"We look forward to meeting potential customers and partners at World of Concrete in Booth N1069 but anyone wishing to contact us in advance can reach us through the our website or call us at our UK offices on 00 +44 (0) 8452 997 597."