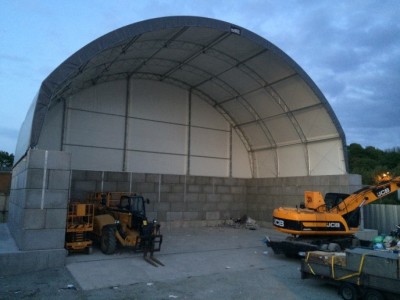 Storage facilities are some of the simplest buildings we ever design or build. However, they still have their own specific requirements and it is very important to understand what they are from the outset.
The whole point of storage is to keep "things" – whatever it is you're storing – together, intact, safe, sound and readily accessible when you need them. This could involve protecting them from the weather or more specifically keeping them dry or away from cold air. And it could mean keep them secure.
Expensive machinery, for example, would require all of these while, for wood chip, security isn't normally such a concern but it does need to be kept dry.
Tensioned membrane buildings
Tensioned membrane buildings are now widely used as storage buildings because they are very cost-effective to build. The materials themselves are cheap, easy to transport to the site and very quick to erect – so low construction costs. And the finished buildings are robust and require minimal maintenance, so reducing on-going costs.
Another advantage of tensioned membrane buildings is that they are not only light inside but also warmer in winter and cooler in summer because of the thermal properties of the membrane, making them easy to work in.
The membrane itself is held up by galvanised steel roof trusses which are either supported in the concrete foundations, if the membrane starts at ground level, or attached to simple concrete walls.
Concrete walls
Concrete walls are quick to build, strong and durable so they can withstand knocks from vehicles but one of the main reasons people choose them is that they can help with the loading of loose materials. Wood chip or road salt can piled against concrete walls which hold it in place while tractors push their buckets into it to fill up.
Some concrete walls also require a rating as fire walls, fire barriers, fire partitions or as high challenge fire walls. Typically we build high challenge fire walls to separate transformers at power stations and sub stations but we also use them to divide a building to improve its defences against the spread of fire or increase its structural stability.
Consider loads
Precast, prestressed and concrete blocks are all used in the construction of different types of wall. Precast concrete push walls make for a very quick, low-cost construction but cost should not be the deciding factor in which materials you use.
Ultimately, the building needs to be fit for purpose and if it is not – because you've chosen a cheaper option – you may be taking grave risks.
A recurring problem exists when a storage facility has a change of purpose. Perhaps, instead of being used to store light, dry materials it is used for dense or wet materials. The loads these materials put on the walls can be much greater and can lead to major accidents. Knowing the load you need your storage facility's walls to take is vital.
RSG is an independent company
At RSG, we have the freedom to get the design and the choice of materials exactly right for the job. We can offer totally impartial advice because we are an independent company. This means we can source any product and use any supplier to get the right price, whether it's a tensioned membrane or concrete.
And we also offer a complete design-and-build package too, including design, sourcing materials, all groundwork and the final build. This ensures the finished storage facilities meet the standard required while also making it easy for our customers who only have one point of contact: RSG.